New York's Philharmonic Hall, October 31, 1964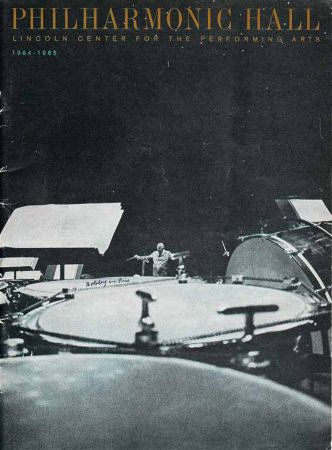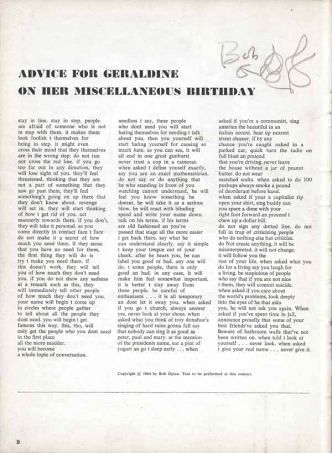 Signed Concert programme. Dylan has signed this programme "Bob" with a drawing/doodle to the right of his name, on the sweet spot of the page with his poem "Advice For Geraldine On Her Miscellaneous Birthday." [1112]
Poster for the concert; this reproduction was offered on bobdylan.com for pre-orders of "The Bootleg Series Vol. 6: Bob Dylan Live 1964".
The Times They Are a-Changin'
Spanish Harlem Incident
Talkin' John Birch Paranoid Blues
To Ramona
Who Killed Davey Moore?
Gates of Eden
If You Gotta Go, Go Now (Or Else You Got to Stay All Night)
It's Alright, Ma (I'm Only Bleeding)
I Don't Believe You (She Acts Like We Never Met)
Mr. Tambourine Man
A Hard Rain's a-Gonna Fall
Talkin' World War III Blues
Don't Think Twice, It's All Right
The Lonesome Death of Hattie Carroll
Mama, You Been on My Mind (with Joan Baez)
Silver Dagger (with Joan Baez)
With God on Our Side(with Joan Baez)
It Ain't Me, Babe (with Joan Baez)
All I Really Want to Do