LONDON, Royal Albert Hall, 26th & 27th May 1966
The Royal Albert Hall is a concert hall on the northern edge of South Kensington, London, opened by Queen Victoria in 1871. It has a capacity of up to 5,272 seats.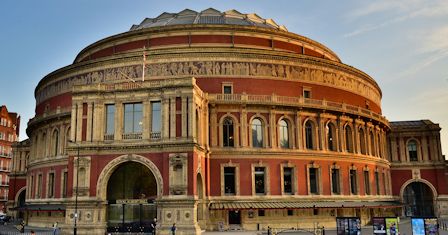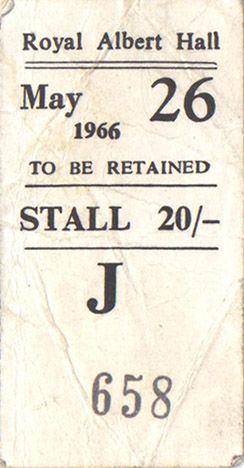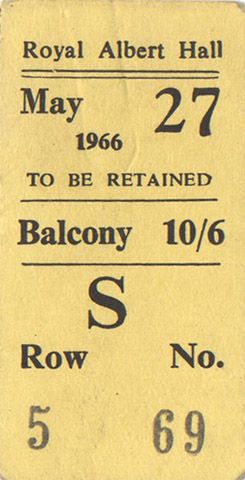 tickets

below: 14 page tour programme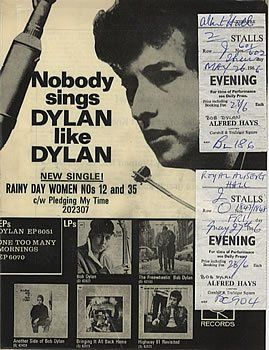 1966 Royal Albert Hall Programme; 12-pages tour programme for Dylan's appearance . This stunning item was sold on eBay complete with a pair of ticket stubs, one from each night.
Acoustic set: Bob Dylan (vocal, harmonica & acoustic guitar)
She Belongs To Me
Fourth Time Around
Visions Of Johanna
It's All Over Now, Baby Blue
Desolation Row
Just Like A Woman
Mr. Tambourine Man
Electric set: Bob Dylan (vocal, harmonica & electric guitar), Robbie Robertson (electric guitar), Garth Hudson (organ), Richard Manuel (piano), Rick Danko (bass), Levon Helm (drums).
Tell Me, Momma
I Don't Believe You (She Acts Like We Never Have Met)
Baby Let Me Follow You Down (Eric von Schmidt)
Just Like Tom Thumb's Blues
Leopard-Skin Pill-Box Hat
One Too Many Mornings
Ballad Of A Thin Man
Like A Rolling Stone