1978 WORLD TOUR
In 1978, Dylan embarked on a year-long world tour, performing 114 shows in Japan, the Far East, Europe and the US, to a total audience of two million people. For the tour, Dylan assembled an eight piece band, and was also accompanied by three backing singers. When Dylan brought the tour to the United States in September 1978, he was dismayed the press described the look and sound of the show as a 'Las Vegas Tour'. See the dates below.
The 1978 tour grossed more than $20 million, and Dylan acknowledged to the Los Angeles Times that he had some debts to pay off because "I had a couple of bad years. I put a lot of money into the movie, built a big house ... and it costs a lot to get divorced in California."
It was during the later stages of this tour that Dylan experienced a "born-again" conversion to Christianity, which would become the overriding thematic preoccupation in his music for the next couple of years, such as on the albums Slow Train Coming (1979) and Saved (1980).
The tickets, handbills and posters of the tour can be seen here.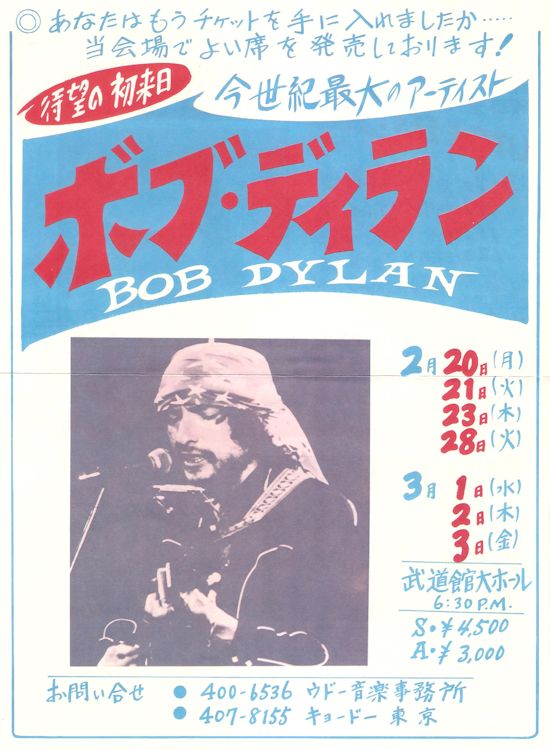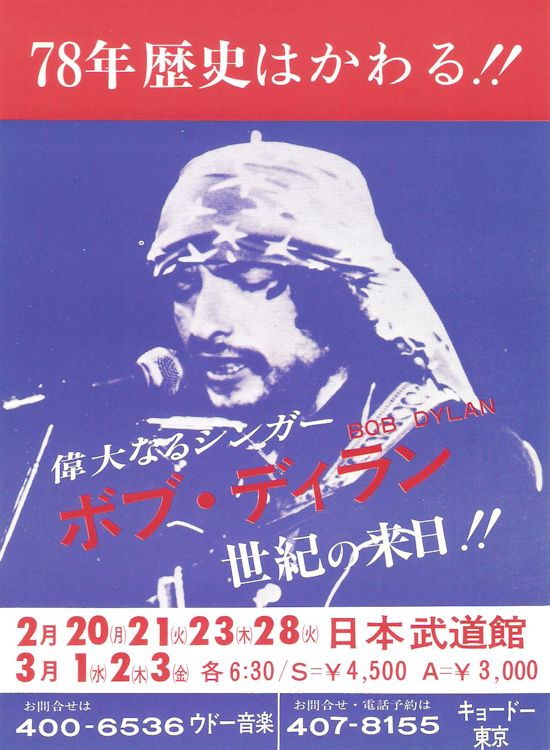 flyers for seven Tokyo Budokan shows
The 1978 World Tour tickets can be seen here.
There are two programmes on glossy paper for the tour: the Japanese edition has 24 pages, and the English one (used for the rest of the world) has 28 pages.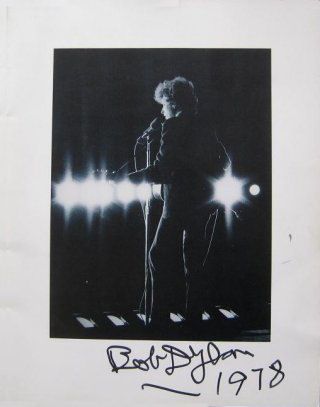 This is page 5 of the Japanese programme, signed by Bob Dylan in Tokyo during the 1978 tour. (Thank you to Wil Gielen).
February 20, 1978 Tokyo Japan Nippon Budokan
February 21, 1978 Tokyo Japan Nippon Budokan
February 23, 1978 Tokyo Japan Nippon Budokan
February 24, 1978 Osaka Matsushita Denki Taiikukan
February 25, 1978 Osaka Matsushita Denki Taiikukan
February 26, 1978 Osaka Matsushita Denki Taiikukan
February 28, 1978 Tokyo Nippon Budokan
March 1, 1978 Tokyo Nippon Budokan
March 2, 1978 Tokyo Nippon Budokan
March 3, 1978 Tokyo Nippon Budokan
March 4, 1978 Tokyo Nippon Budokan
March 9, 1978 Auckland New Zealand Western Springs Stadium
March 12, 1978 Brisbane Australia Brisbane Festival Hall
March 13, 1978 Brisbane Australia Brisbane Festival Hall
March 14, 1978 Brisbane Australia Brisbane Festival Hall
March 15, 1978 Brisbane Australia Brisbane Festival Hall
March 18, 1978 Adelaide Westlake Stadium
March 20, 1978 Melbourne Sidney Myer Music Bowl
March 21, 1978 Melbourne Sidney Myer Music Bowl
March 22, 1978 Melbourne Sidney Myer Music Bowl
March 25, 1978 Perth Perth Entertainment Centre
March 27, 1978 Perth Perth Entertainment Centre
April 1, 1978 Sydney Sydney Sports Ground
North America (First Leg)
June 1, 1978 Los Angeles Universal Amphitheater
June 2, 1978 Los Angeles Universal Amphitheater
June 3, 1978 Los Angeles Universal Amphitheater
June 4, 1978 Los Angeles Universal Amphitheater
June 5, 1978 Los Angeles Universal Amphitheater
June 6, 1978 Los Angeles Universal Amphitheater
June 7, 1978 Los Angeles Universal Amphitheater
Europe
June 15, 1978 London England Earls Court Exhibition Centre
June 16, 1978 London England Earls Court Exhibition Centre
June 17, 1978 London England Earls Court Exhibition Centre
June 18, 1978 London England Earls Court Exhibition Centre
June 19, 1978 London England Earls Court Exhibition Centre
June 20, 1978 London England Earls Court Exhibition Centre
June 23, 1978 Rotterdam Netherlands Feijenoord Stadion
June 26, 1978 Dortmund Germany Westfalenhallen
June 27, 1978 Dortmund Germany Westfalenhallen
June 29, 1978 Berlin Deutschlandhalle
July 1, 1978 Nuremberg Zeppelinfeld
July 3, 1978 Paris France Pavillon de Paris
July 4, 1978 Paris France Pavillon de Paris
July 5, 1978 Paris France Pavillon de Paris
July 6, 1978 Paris France Pavillon de Paris
July 9, 1978 Paris France Pavillon de Paris
July 11, 1978 Gothenburg Sweden Scandinavium
July 12, 1978 Gothenburg Sweden Scandinavium
July 15, 1978 Camberley England Blackbushe Aerodrome
North America (Second Leg)
September 15, 1978 Augusta Augusta Civic Center
September 16, 1978 Portland, Maine Cumberland County Civic Center
September 17, 1978 New Haven New Haven Coliseum
September 19, 1978 Montreal Canada Montreal Forum
September 20, 1978 Boston Boston Garden
September 22, 1978 Syracuse Oncenter War Memorial Arena
September 23, 1978 Rochester Rochester War Memorial
September 24, 1978 Binghamton Broome County Veterans Memorial Arena
September 26, 1978 Springfield Springfield Civic Center
September 27, 1978 Uniondale Nassau Veterans Memorial Coliseum
September 29, 1978 New York City Madison Square Garden
September 30, 1978 New York City Madison Square Garden
October 3, 1978 Norfolk Scope Arena
October 4, 1978 Baltimore Baltimore Civic Center
October 5, 1978 Landover Capital Centre
October 6, 1978 Philadelphia The Spectrum
October 7, 1978 Providence Providence Civic Center
October 9, 1978 Buffalo Buffalo Memorial Auditorium
October 12, 1978 Toronto Canada Maple Leaf Gardens
October 13, 1978 Detroit Detroit Olympia
October 14, 1978 Terre Haute Hulman Center
October 15, 1978 Cincinnati Riverfront Coliseum
October 17, 1978 Chicago Chicago Stadium
October 18, 1978 Chicago Chicago Stadium
October 20, 1978 Richfield Richfield Coliseum
October 21, 1978 Toledo Centennial Arena
October 22, 1978 Dayton University of Dayton Arena
October 24, 1978 Louisville Freedom Hall
October 25, 1978 Indianapolis Market Square Arena
October 27, 1978 Kalamazoo Wings Stadium
October 28, 1978 Carbondale SIU Arena
October 29, 1978 St. Louis Checkerdome
October 31, 1978 Saint Paul St. Paul Civic Center
November 1, 1978 Madison Dane County Memorial Coliseum
November 3, 1978 Kansas City Kemper Arena
November 4, 1978 Omaha Omaha Civic Auditorium
November 6, 1978 Denver McNichols Sports Arena N/A
November 9, 1978 Portland, Oregon Portland Memorial Coliseum
November 10, 1978 Seattle Hec Edmundson Pavilion
November 11, 1978 Vancouver Canada Pacific National Exhibition Hall
November 13, 1978 Oakland Alameda County Coliseum
November 14, 1978 Oakland Alameda County Coliseum
November 15, 1978 Inglewood Inglewood Forum
November 17, 1978 San Diego San Diego Sports Arena
November 18, 1978 Tempe Arizona State University Activity Center
November 19, 1978 Tucson McKale Memorial Center
November 21, 1978 El Paso Special Events Arena
November 23, 1978 Norman Lloyd Noble Center
November 24, 1978 Fort Worth Fort Worth Convention Center
November 25, 1978 Austin Special Events Center
November 26, 1978 Houston The Summit
November 28, 1978 Jackson Mississippi Coliseum
November 29, 1978 Baton Rouge LSU Assembly Center
December 1, 1978 Memphis Mid-South Coliseum
December 2, 1978 Nashville Nashville Municipal Auditorium
December 3, 1978 Birmingham Birmingham–Jefferson Convention Complex
December 5, 1978 Mobile Mobile Civic Center
December 7, 1978 Greensboro Greensboro Coliseum
December 8, 1978 Savannah Savannah Civic Center
December 9, 1978 Columbia Carolina Coliseum
December 10, 1978 Charlotte Charlotte Coliseum
December 12, 1978 Atlanta Omni Coliseum
December 13, 1978 Jacksonville Jacksonville Coliseum
December 15, 1978 Lakekand Lakeland Center
December 16, 1978 Pembroke Pines Hollywood Sportatorium