1981 EUROPE TOUR
26 pages, glossy paper: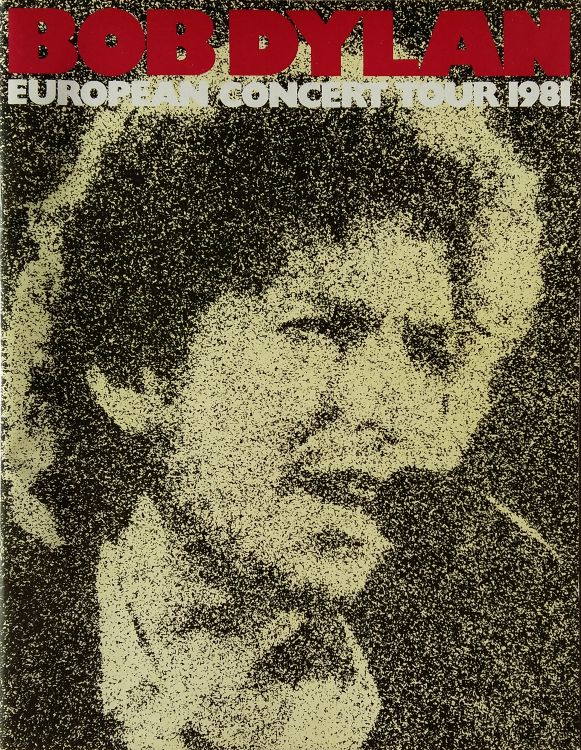 front (back is the same)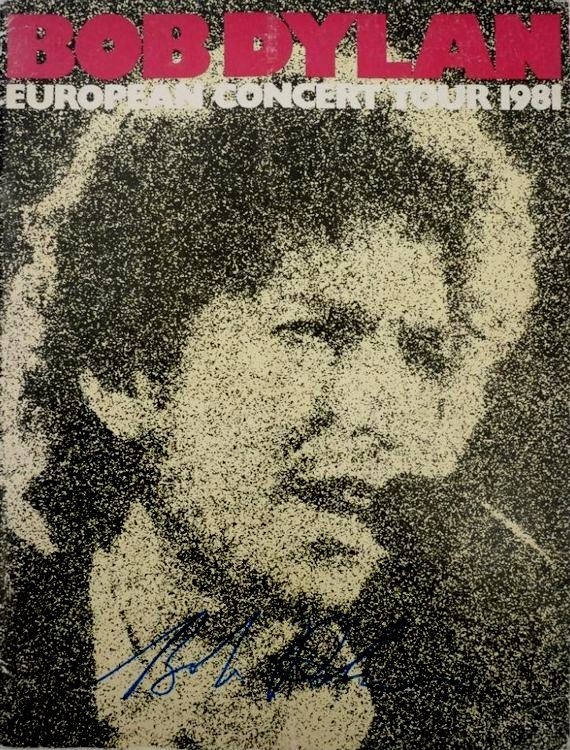 signed copy
The Bob Dylan World Tour 1981 lasted from June 10, 1981 to November 21, 1981 and consisted of 54 concerts in three legs: 31 in North America and 23 in Europe. The tour promoted the release of Dylan's 1981 album Shot of Love.
The tour started on June 10, 1981 in Chicago, Illinois. Dylan performed a further three concerts in the United States before travelling to Europe.
The European leg of the tour started on June 21 in Toulouse in France and consisted of twenty three concerts, the largest number of concerts taking place in England where eight shows were performed. All shows from July 1 onwards were recorded by members of Dylan's crew.
The European tour ended in tragedy in Avignon, France where a member of the crowd fell into the electric cables before the first song and caused total power loss. Dylan and the band improvised an unplugged instrumental until the power was restored and 'Saved' was started from the beginning. In the accident two people were killed, but the show went ahead despite the incident.
June 21, 1981 Toulouse France Stade des Minimes
June 23, 1981 Colombes Stade de Colombes
June 26, 1981 London England Earls Court Exhibition Centre
June 27, 1981 London England Earls Court Exhibition Centre
June 28, 1981 London England Earls Court Exhibition Centre
June 29, 1981 London England Earls Court Exhibition Centre
June 30, 1981 London England Earls Court Exhibition Centre
July 1, 1981 London England Earls Court Exhibition Centre
July 4, 1981 Birmingham NEC LG Arena
July 5, 1981 Birmingham NEC LG Arena
July 8, 1981 Stockholm Sweden Johanneshovs Isstadion
July 9, 1981 Drammen Norway Drammenshallen
July 10, 1981 Drammen Norway Drammenshallen
July 12, 1981 Copenhagen Denmark Brøndby Hall
July 14, 1981 Bad Segeberg Germany Freileichttheater
July 15, 1981 Bad Segeberg Germany Freileichttheater
July 17, 1981 Lorelei Freilichtbühne
July 18, 1981 Mannheim Eisstadion am Friedrichspark
July 19, 1981 Munich Olympiahalle
July 20, 1981 Munich Olympiahalle
July 21, 1981 Vienna Austria Wiener Stadthalle
July 23, 1981 Basel Switzerland St. Jakobshalle
July 25, 1981 Avignon France Palais des Sports