SLANE CASTLE, County Meath, Ireland. Sunday 8 July 1984
Slane Castle is located in the town of Slane, within the Boyne Valley of County Meath, Ireland.
The castle has been the family seat of the Conyngham family since it was built in the late 18th century, on land first purchased in 1703 by Brig.-Gen. Henry Conyngham.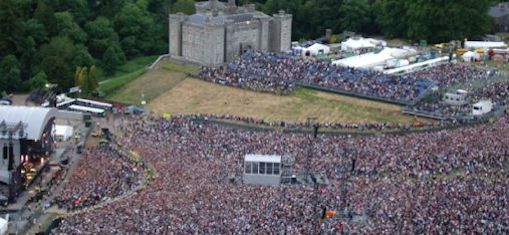 Bob Dylan performed with with guests Carlos Santana, Van Morrison, and Bono during encores. (set list below)

Ticket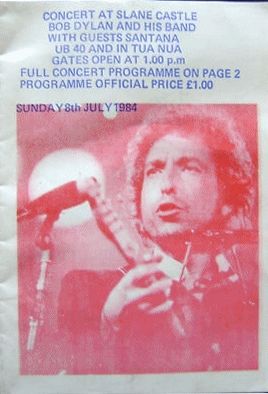 Programme of the concert, no information
Highway 61 Revisited
Jokerman
All Along the Watchtower
Just Like a Woman
Maggie's Farm
I and I
License to Kill
Just My Imagination
A Hard Rain's A-Gonna Fall
Tangled Up in Blue
To Ramona
It's Alright, Ma (I'm Only Bleeding)
Shelter From the Storm
Masters of War
Ballad of a Thin Man
Enough Is Enough
Every Grain of Sand
Like a Rolling Stone
Mr. Tambourine Man
With God on Our Side
Girl From the North Country
Simple Twist of Fate
It's All Over Now, Baby Blue
Tupelo Honey (Van Morrison cover)
Leopard-Skin Pill-Box Hat (with Carlos Santana)
Tombstone Blues (with Carlos Santana)
The Times They Are A-Changin' (with Carlos Santana)
Blowin' in the Wind (with Carlos Santana)