BOB DYLAN IN HIS FIRST NEW YORK CONCERT. Carnegie Chapter Hall, Saturday November 4, 1961.
Located at the 5th floor of Carnegie Hall in New York; 53 tickets were sold, while the hall could have held 200.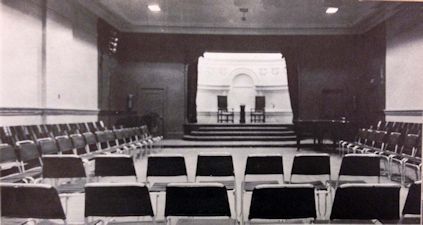 Very simple programme: 4 pages, just a 20,5 cm x 27 cm folded sheet of paper. Back/front & inside: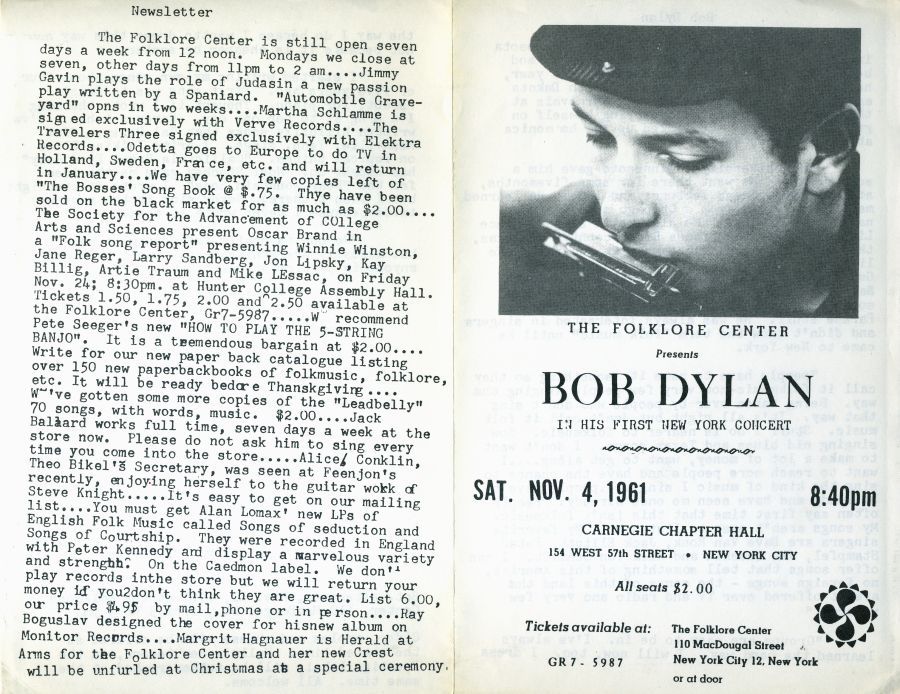 Just nine days after signing with Columbia Records, Dylan performed 22 songs at the Chapter Hall concert.
The first seven songs from this performance came into circulation among collectors some years ago.
Five additional songs appeared in December 2004 and a further two ('Talking Merchant Marine' and 'Talking New York') turned up in May, 2008. Seven songs are still uncirculating among collectors.
Pretty Peggy-O
In the Pines
Gospel Plow
1913 Massacre
Backwater Blues
A Long Time A-Growin'
Fixin' to Die
San Francisco Bay Blues (uncirculating)
Riding In My Car (uncirculating)
Talkin' Bear Mountain Picnic Massacre Blues
Man On The Street
Sally Girl (uncirculating)
This Land Is Your Land
Talking Merchant Marine (Talking Sailor)
Black Cross
He Was A Friend Of Mine (uncirculating)
Pretty Polly (uncirculating)
House of the Rising Sun (uncirculating)
The Cuckoo Is A Pretty Bird (uncirculating)
Freight Train Blues
Song To Woody
Talkin' New York